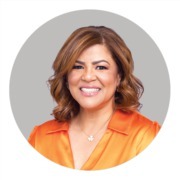 Representing Miami homebuyers and sellers, Luz Abreu can help you find your next home! As a broker, she strives to demonstrate the highest levels of integrity to each of her clients. Her commitment to her job is unmatched as she displays hard work and exceptional client service. 
Luz is a proud Latina and a member of the South Florida community. She is fluent in both Spanish and English - meaning no one gets left behind! Her expertise and knowledge beyond the typical REALTOR® make her the perfect candidate for Spanish-speaking clients as she walks them through the buying and selling process. 
After living in Miami for as long as she can remember, Luz has unbeatable knowledge of the city and its bustling neighborhoods. In her free time, you can find Luz exploring the city, trying new restaurants, and traveling! She is the perfect embodiment of what it means to live in Miami, so give her a call today!