Housing Market Update: Miami News For You
Posted by Luz Abreu on Wednesday, September 13, 2023 at 4:36:21 PM
By Luz Abreu / September 13, 2023
Comment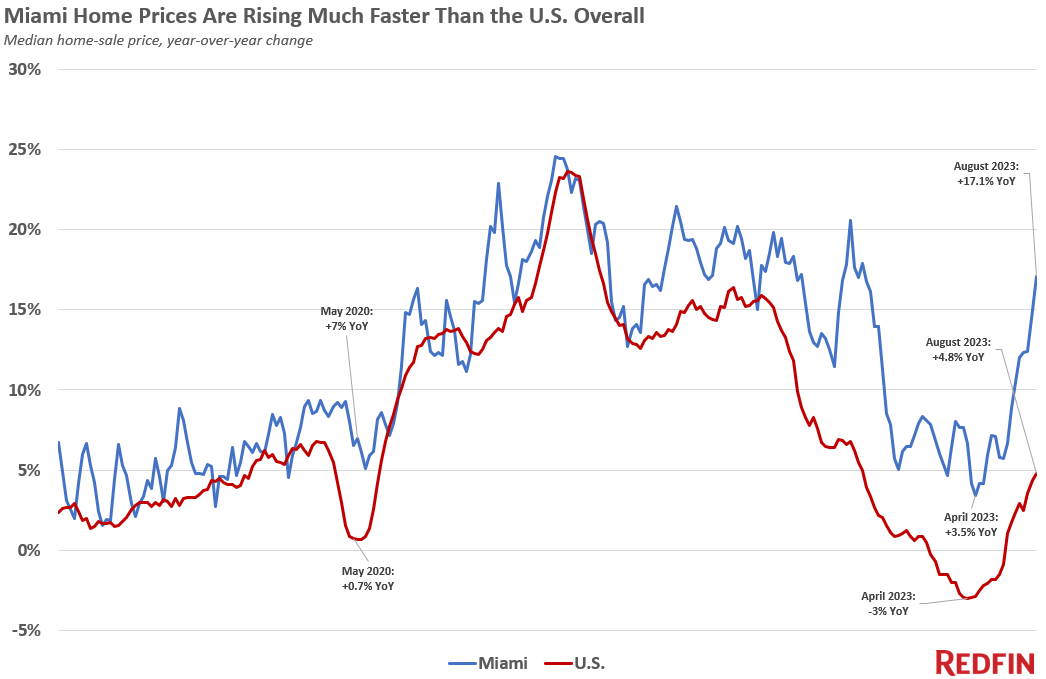 The median home-sale price in Miami rose 17% from a year earlier during the four weeks ending August 27, the biggest increase the metro area has seen since October 2022. That's also the biggest increase of the 50 most populous U.S. metros, though almost all of those metros posted year-over-year price gains in August.
Unlike most U.S. metros, Miami prices never posted an annual drop in the first half of 2023, as elevated mortgage rates were deterring many homebuyers. That's partly because Miami has a supply shortage, like the rest of the country. But it's also because Miami attracts an influx of out-of-town buyers and investors, despite increasing risk of climate-driven natural disasters such as hurricanes and flooding. Those buyers are often undeterred by high mortgage rates because they pay cash; two in five recent Miami homebuyers paid all cash.
Key housing market takeaways for 400+ U.S. metro areas
The median home sale price was $379,975, up 4.8% from a year earlier. That's the biggest increase since October.

Sale prices

increased most in Miami (17.1% YoY), Newark, NJ (16.1%), San Diego (12.3%), Milwaukee (12.1%) and Providence, RI (11%).

Home-sale prices declined in just six metros: Austin, TX (-8.7% YoY), Phoenix (-2.4%), Portland, OR (-1.4%), Fort Worth, TX (-1.3%), Las Vegas (-1.2%) and San Antonio, TX (-0.5%).

The median asking price of newly listed homes was $383,706, up 3.7% from a year earlier. That's the biggest increase since November.

The monthly mortgage payment on the median-asking-price home was a record-high $2,649 at a 7.23% mortgage rate, the average for the week ending August 24. That's up 18% from a year earlier.

Pending home sales were down 14.4% year over year, continuing a 15-month-plus streak of double-digit declines.

Pending home sales fell in all of the metros Redfin analyzed. They declined most in Boston (-30% YoY), Cleveland (-29.9%), Seattle (-29.2%), New Brunswick, NJ (-28.7%) and Sacramento (-27.6%).

New listings of homes for sale fell 10.4% year over year. That's a substantial decline, but the smallest in about a year. Part of the reason for the shrinking decline is that new listings fell swiftly at this time in 2022.

New listings declined in all but two of the metros Redfin analyzed. They fell most in Atlanta (-32% YoY), Las Vegas (-27.5%), Cleveland (-26.7%), Sacramento (-21.4%) and Riverside, CA (-20.9%). They increased in Milwaukee (6.1%) and San Jose, CA (4.3%).

Active listings (the number of homes listed for sale at any point during the period) dropped 18.7% from a year earlier, the biggest decline since February 2022. Active listings were down slightly from a month earlier; typically, they post month-over-month increases at this time of year.

Months of supply—a measure of the balance between supply and demand, calculated by the number of months it would take for the current inventory to sell at the current sales pace—was 2.9 months, the highest level since April. Four to five

months of supply

is considered balanced, with a lower number indicating seller's market conditions.

40.8% of homes that went under contract had an accepted offer within the first two weeks on the market, on par with the share a year earlier.

Homes that sold were on the market for a median of 29 days, on par with 28 days a year earlier.

34.1% of homes sold above their final list price, down just slightly from 36% a year earlier.

On average, 6.2% of homes for sale each week had a price drop, the highest share since November and roughly the same as a year earlier.

The average sale-to-list price ratio, which measures how close homes are selling to their final asking prices, was 99.7%, the lowest level in three months. It's about on par with a year earlier.